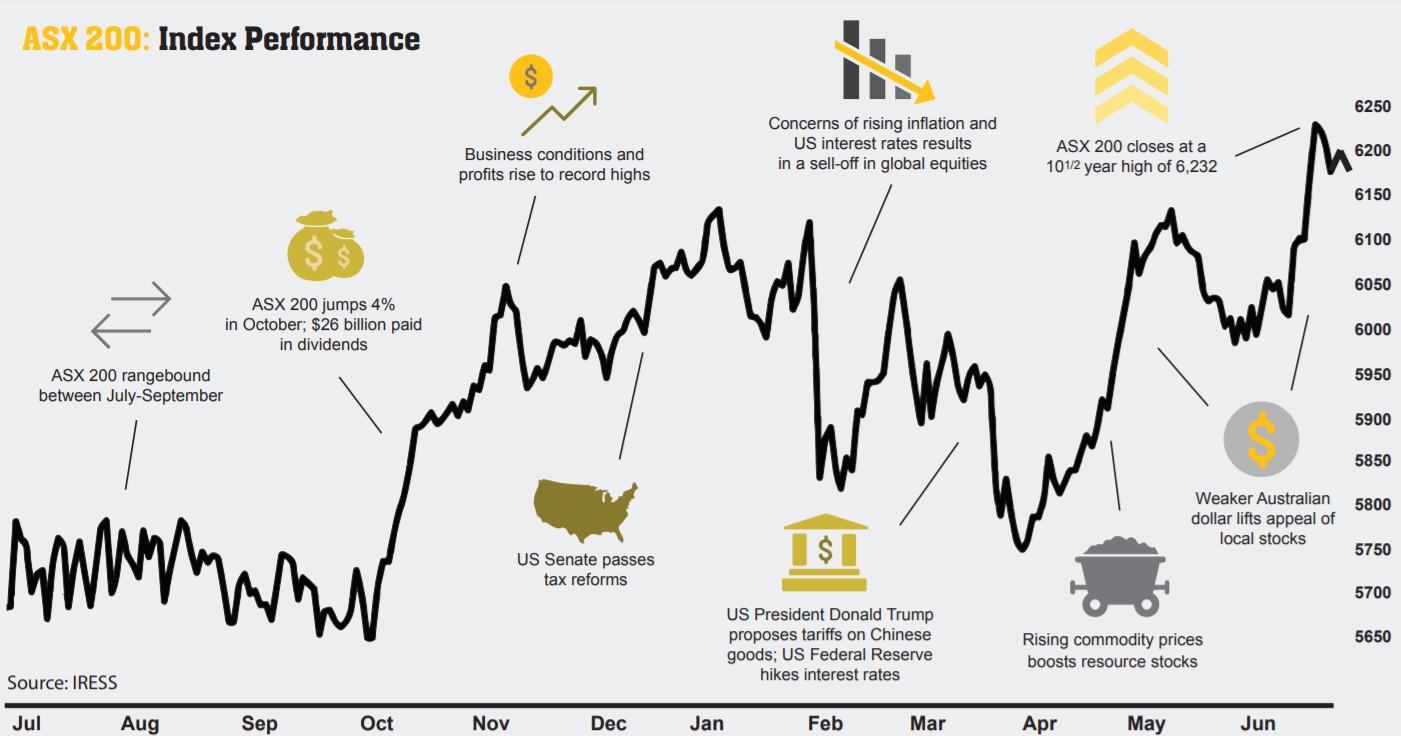 Source: Commsec
Financial Year 2018, the year that was.
 The ASX 200 index increased by  8.3% over FY2018, with total return (measured by All Ordinaries Accumulation index) was closer to 13.7%.  The chart above shows the key catalysts over the year. The index had a flat start  to the year followed by a sharp rise driven by anticipated Trump Tax cuts and buoyant Chinese demand driving commodity prices, that saw the ASX 200  achieve highs in January. February saw the emergence of market jitters as inflation and the spectre of rising interest rates in the US rattled confidence, that was further rattled in March/ April by Trump's saber rattling on Trade Tariffs.  The final quarter saw rising commodity prices and a falling US dollar boost the local market.
Sectorially the defensive sectors of Utilities, Telecommunications (ie Telstra) and REITS underperformed, as did the Banks&Financials as the Royal Commission highlighted Compliance issues  that are expected to affect 2019 credit growth. Winners over FY2018 were the Mining stocks as commodity prices recovered (especially Oil) and Growth stocks that continued to be in favour, especially HealthCare Drugs and Devices and stocks  leveraged to the Chinese consumer demand.
While domestically the S&P/ASX 200 delivered a good performance, if we viewed the Australian equity  market from a Global Investor perspective we get a  very different view. The figure below shows the Australian component of the MSCI World Index in US$ terms. After an initial rise in Jul/Aug the index essentially went sideways apart from one mid year surge explained by the late 2017 commodity rise.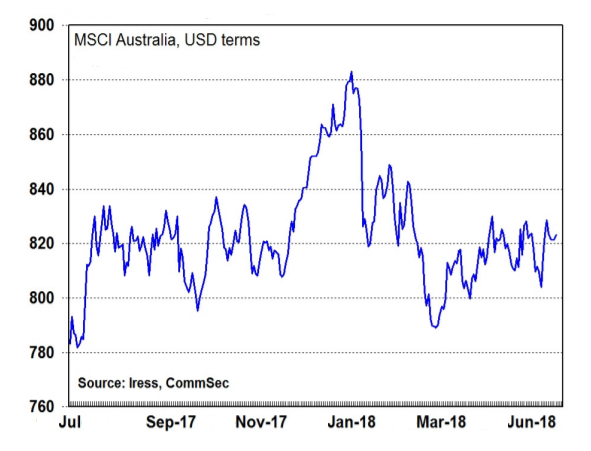 So what does this tell us for FY2019?? Australia remains a investment neutral decision for overseas investors, any gain in  the index is more than likely offset by loss on the currency. With the recent decline in the A$ and subsequent rise in ASX 200,the Australian market has run up  its relative valuation.  A look at the relative valuations, namely the Australian market forward P/E relative to the World (see figure below ) indicates that potentially there is more value overseas.  Consequently, while we remain underweight shares in aggregate, we are overweight international shares and significantly underweight Australian shares.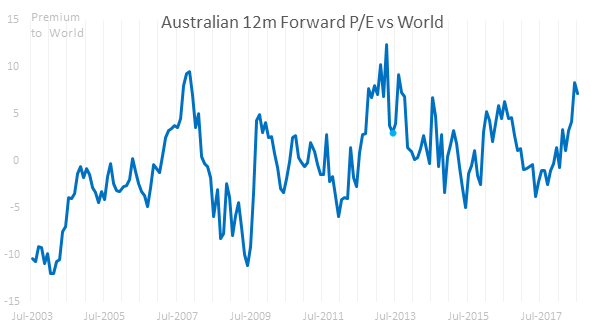 Source: Factset