Chant West returns released its returns for superannuation funds for last month and a preview of the March massacre. Our funds beat the benchmarks by up to 3.7% in February. In March returns to date our funds look to be beating benchmarks by closer to 10%. 
We moved decisively into international cash and bonds at the end of January and out of shares.    

From Chant West:
"Growth funds, which is where most Australians have their superannuation invested, hold diversified portfolios that are spread across a wide range of growth and defensive asset sectors. This diversification works to cushion the blow during periods of share market weakness. So while Australian and international shares are down at least 27% since the end of January, the median growth fund's loss has been limited to about 13%."
It is unclear which day the quote was from. As at the close on the 19th, the ASX 200 Accumulation index was down 32% from the start of February. Our growth fund is down 0.79%: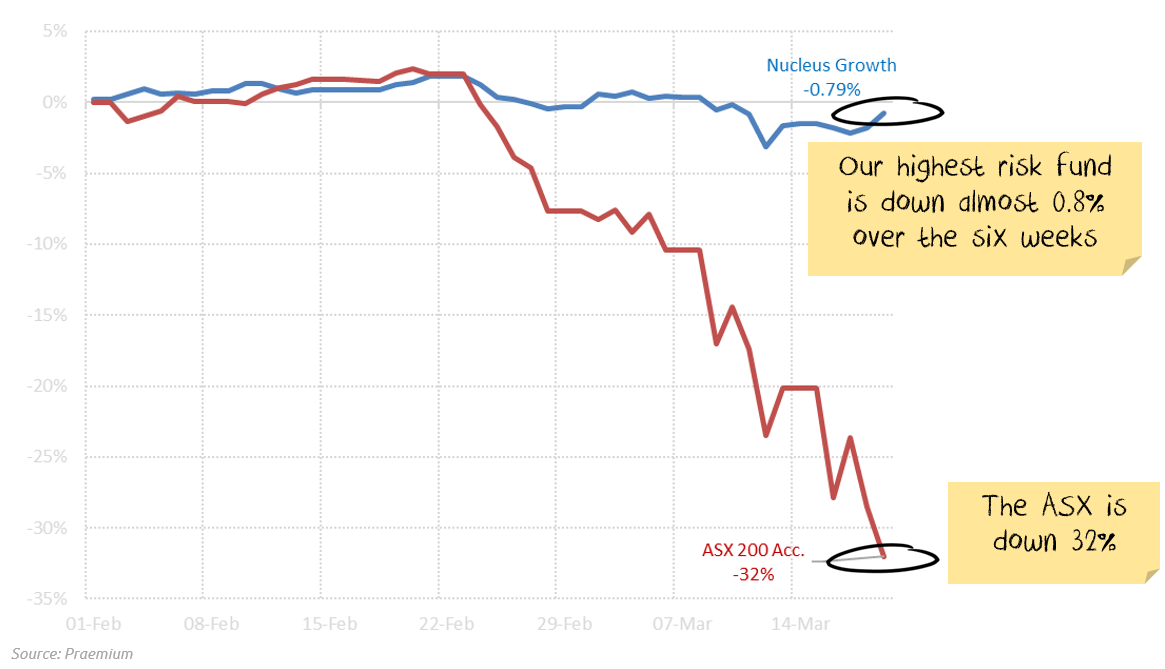 Past performance is not an indication of future performance. 
Just to be clear, all of our funds are invested in liquid, traded blue-chip stocks, federal government bonds or cash. There is no shorting, no derivatives, no leverage. Just high-quality assets. These assets are held by our investors in their own accounts, with only their own tax issues. There is no co-mingling of assets and tax liabilities as you see in a traditional superannuation fund. 
Many superannuation funds also hold significant levels of unlisted assets which they value themselves, most likely inflating returns.