Nucleus Wealth manage core investment funds investing in Cash, Bonds, Australian Shares and International Shares, the idea being that they can form the core or nucleus of your investments and then you can invest in other assets (e.g. small caps, your own stock picks, hedge funds etc.) around these funds if you wish.
We use a Separately Managed Account Structure for investing our client capital. Benefits of using this type of structure are many, and you can read more about the different kinds of structures here. 
Nucleus Wealth is the investment manager for all recommended portfolios. Our chosen platform provider, Linear Asset Management, executes our instructions and is backed by ANZ (cash management) and JP Morgan, the worlds biggest bank. Please see below for more detail.
We have designed these funds to cut out your need for a financial planner.  We bring the group's extensive macro insights to this task, also something your typical financial planner does not have. The funds charge only a 0.64% fee and the administration fee for the platform provider ranges from 0.25% to 0.55% (depending on how much you invest and where). If your needs are more complex and you still require more tailored planning advice then we can provide that too, or work with your current planner. The idea is that you only pay for advice when and if you need it.
There are six funds on offer: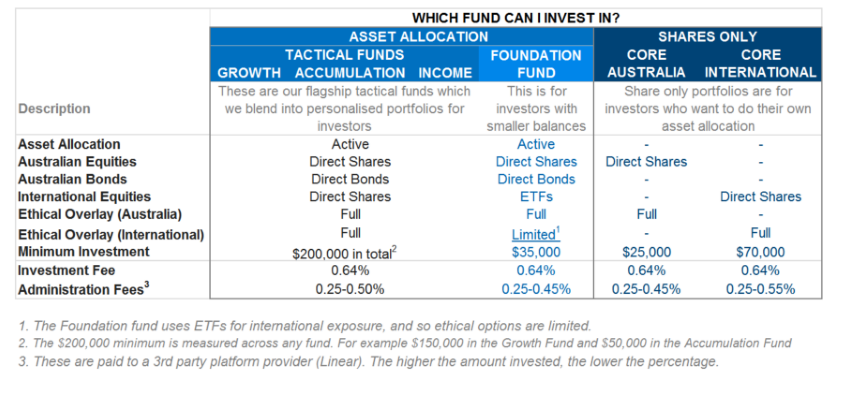 Each is described below:
1. Tactical Funds 
In these funds we make the decision when and what mix to buy of Australian shares, International shares, cash or bonds.
There are three sub funds, and typically we will blend all three of these funds for you so that you get a mix of assets that is appropriate for your income needs and your risk preference: 
Growth: In this fund there is a higher weighting of growth investments. Clients with a lower tolerance for risk can blend this model with other models to achieve a more appropriate risk outcome.
Accumulation:  This is a conservative portfolio for investors who do not have an income requirement. There is a low weighting of growth investments, and we buy stocks in this portfolio without regard to the dividend yield.
Income: This is a conservative portfolio for investors who have a preference for income rather than capital gains. There is a very low weighting of growth investments, and stocks in this portfolio are screened for yield.
2. Tactical Foundation 
This is a fund for investors with lower balances. It aims to provide investors with an introduction to the benefits of individual share ownership through a separately managed account, whilst still ensuring investors maintain a reasonable share parcel size.
 We again make the decision when and what mix to buy of Australian shares, International shares, cash or bonds.
Due to the lower balances though, direct international share ownership is not feasible and so this model achieves this through an individual Australian share portfolio, a selection of International exchange traded funds, and defensive holdings in bonds and cash.
3. Shares only portfolios
These are "carve outs" of the Australian or International parts of the above portfolios.
They are a core holding,  designed to have exposure to the large capitalisation part of the Australian or International market. Its intended for investors who wish to do their own asset allocation, and can use this fund to get exposure to higher quality and cheaper stocks in the Australian market.
The funds maintain minimal cash balances – i.e. the tactical funds above will reduce share weights when stock markets are expensive or risky, whereas this fund will remain fully invested. It is up to the investor to manage the asset allocation when buying this fund.
---
Personalisation
When you sign up you will be given three options to personalise your portfolio:
(1) Risk 
(2) Income requirements 
(3) Ethics
The risk and income requirements are assessed and then controlled through blending the above funds to match your requirements.
Once you've selected your fund mix, at the click of a mouse you can choose an individual ethical overlay for your portfolio. By choosing to exclude stocks your portfolio's performance will differ from the standard portfolios. Please see below for our ethical screens currently available: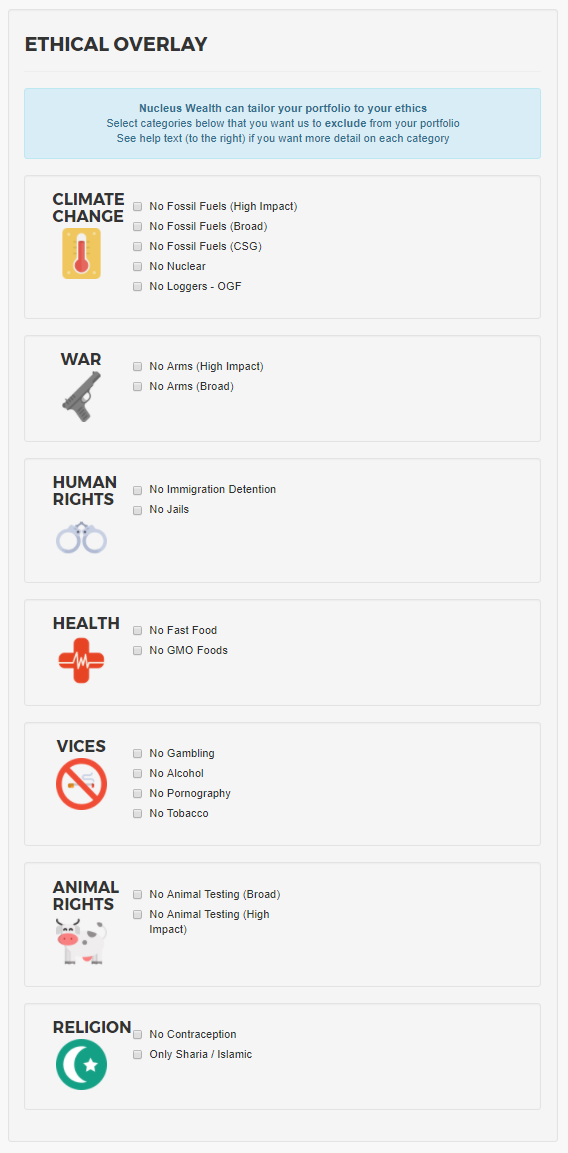 ---
Investment Platform
The managed investment models are only available through the Linear Managed Accounts investment administration platform. All positions are currently implemented through physical investments. The investment committee often takes a longer-term view on assets and will choose to gradually build positions with dividends/excess capital rather than actively trading where ever possible.
Each model is designed to help investors get access to the benefits and transparency of individual share investing, through the use of a separately managed account. You will always be able to see every security that you hold and it's live value, contrary to the black box currently on offer in most managed funds: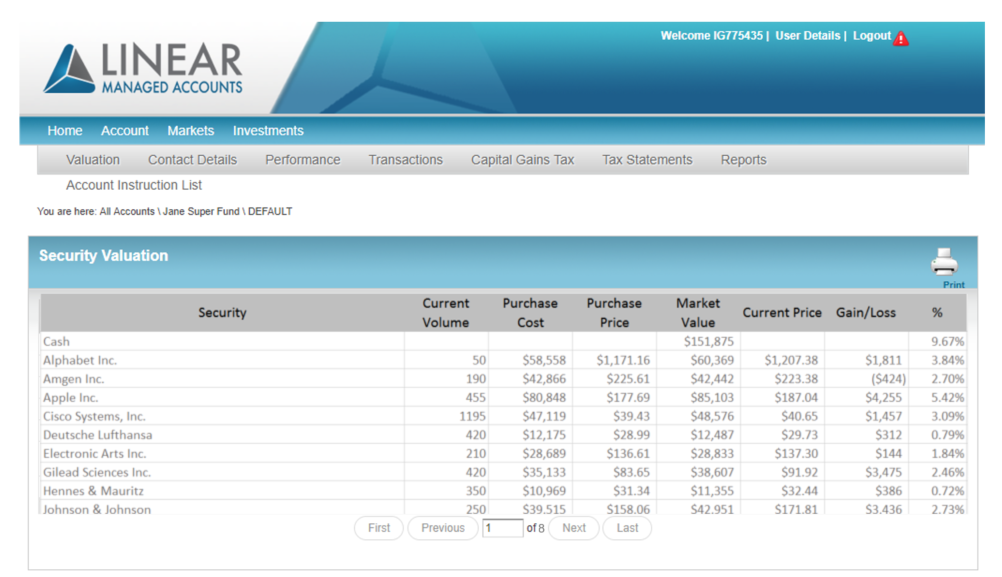 The platform gives you 24×7 access to your holdings, tax information, trading information and fee breakdown.
---