1.2 Outline briefly the key dates and events in relation to the "corporate" history of your investment management organisation (i.e. date founded, changes in capital structure, mergers/acquisitions, etc.) using a time-line format. 
Nov 2016 – Established funds management business
July 2017 – First client funds invested
July 2019 – Began operating under own AFSL (formerly corporate authorised representative of Integrity Private Wealth)
1.3           Provide an organisation chart showing the ownership structure of the investment management organisation and subsidiaries of the parent company.  Also show the proportion (%) owned by principals of the company, other financial organisations (include names) and outside individual shareholders.
Nucleus is majority owned by Damien Klassen.
Macro Associates was the initial source of customers. Two principals of Macro Associates sit on the asset allocation committee, are equity holders, and David Llewellyn-Smith is a director of Nucleus.
Principles own 96% of Nucleus.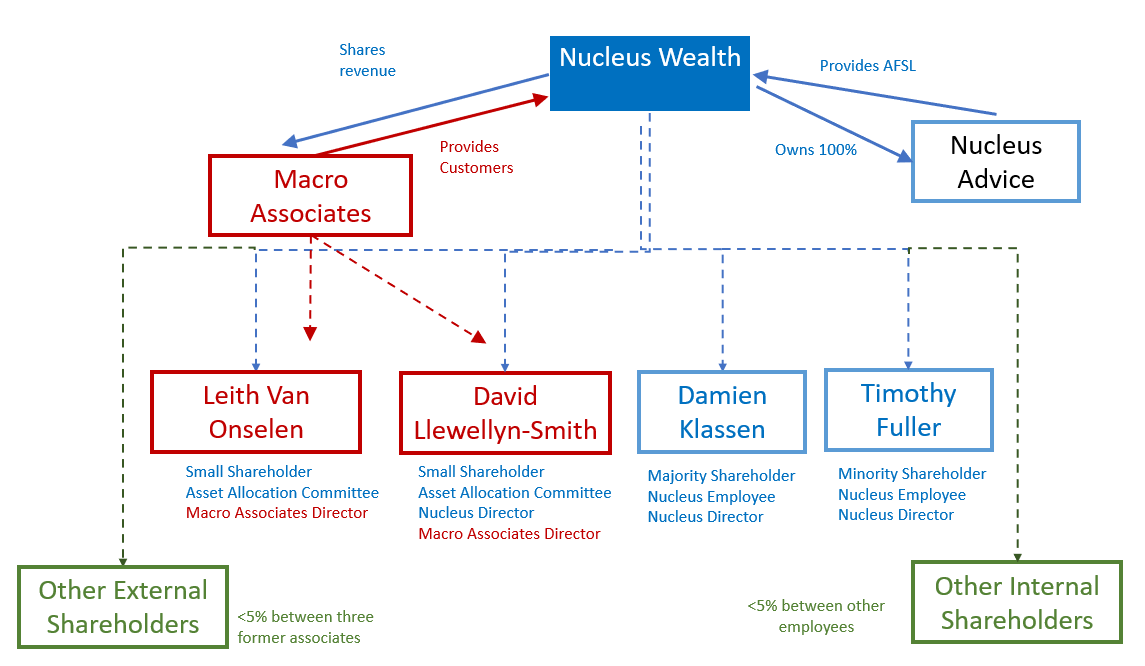 1.4 Please state the number of staff and how many are investment professionals.
Nucleus employs twelve staff members directly. Four are investment professionals, two are data scientists / software engineers who help with the quantitative aspects. In addition, there are two investment professionals from Integrity who sit on stock selection committees.
1.5 Please outline any key staff turnover in the past 2 years of both senior executive and senior investment staff.
In August 2021, Timothy Fuller left the business.
1.6           List any companies shown in the above organisation chart that have been rated by a debt-rating agency. Specify the rating achieved and the name of the rating issuer.
N/A.
1.7           State the business targets that are set for the investment management organisation and briefly describe the strategies that will be used to achieve those targets.
Nucleus Wealth is looking to grow through three different channels:
Direct: These are investors who invest directly with us using nucleuswealth.com. We derive customers from blogging, podcasts and direct online marketing. Nucleus has over 600 direct investors with accounts. This is our primary source of growth.
Intermediary: These are investors who invest with us via a financial advisor or accountant. We have a small number of these who have invested already, and a wider range of these customers ready to invest subject to being added to an approved product list. We expect these clients to provide an increasing amount of our FUM over the medium term.
Institutional: These are large funds investing directly or after advice from asset consultants.
1.8           What support does the Parent provide in terms of financial, technical, systems integration or personnel?
None.
1.9           If applicable, outline any Parent guarantees or limited liability agreements with the Manager.
None
1.10           Approximately what proportion of your Parent company's revenue is generated by your investment management organisation?
N/A
1.11       List any organisations with which you have formal affiliations and provide a brief overview of the nature of each affiliation.
Nucleus pays Macro Associates to be the exclusive portfolio provider on macrobusiness.com.au and has employed two principles of Macro Associates as part of its asset allocation committee. David Llewellyn-Smith from Macro Associates is a director of Nucleus.
1.12       List any investment and investment related service providers (e.g. custody, settlement, IT, compliance, administration, customer service) to the organisation and provide a brief overview of each service. 
S&P Capital IQ is the key data provider. Data is received electronically and loaded into Nucleus web servers. Amazon Web Services provides hosting for Nucleus web servers. Google and Hubspot provide customer service software. Praemium, Interactive Brokers and XploreWealth provide the investment platform.
1.13       List any products that are closed to new business.  Where possible, it would be helpful if you could also list those products that may be closed over the next year.
N/A
1.14       Which investor groups does your company primarily target?
Retail and superannuation investors.
1.15       What are the major factors affecting the change in your market share over the past five years?
N/A.
1.16       What are your capacity targets as a funds management business? Please state for each key strategy offered.
All of our asset allocation funds invest in a broad portfolio of large capitalisation stocks and government bonds, and so there are no capacity constraints in the foreseeable future. Generally, each stock is less than 1% of the portfolio and greater than $20b in market cap. Even if the fund were $50b in size, it is unlikely to own more than 5% of any individual stock. For our Australian large cap strategy we estimate the capacity to be more than $10b.
1.17       Please outline your approach to taxation management and the reporting and provision of after tax returns, if applicable.   
As the model portfolios are implemented in a transparent tax environment (an absolute entitlement trust) we would not generally manage individual tax positions as all clients would have different tax positions dependant on when their portfolio shares was purchased.
Portfolio Manager Buy/Sell decisions may be influenced by the unrealised tax liability/asset for our model portfolio for a typical Australian investor provided that this influence does not create additional risks, while being mindful that any trading may affect different clients differently. For example a trade may be delayed if the trade is not urgent and the delay would result in typical Australian investor receiving a capital gains discount. Individual client positions will differ.
1.18       Provide a complete organisational chart for your investment management business (including investment management, sales/marketing, administration and compliance) and give a brief description of the "key" reporting lines.  Include reference to overseas investment management offices and staff.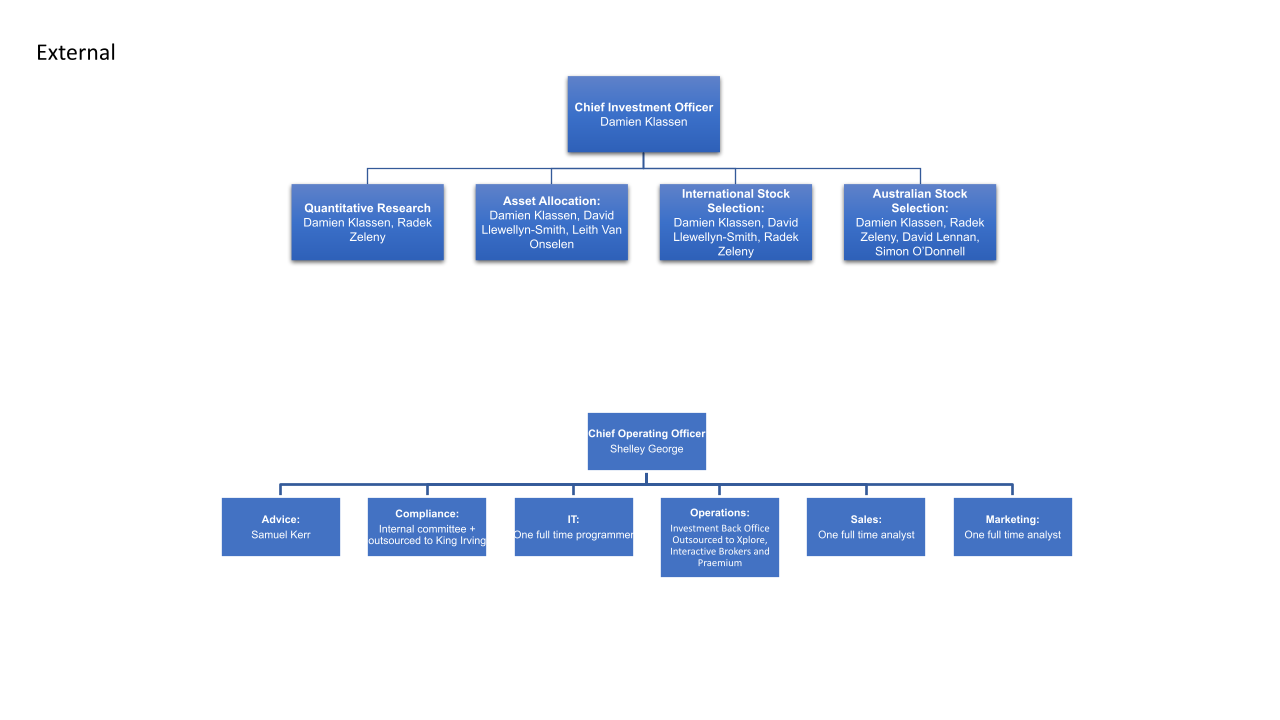 1.18       Please supply biographies for each of the investment personnel in word format as an Appendix.
See appendix
1.19       How is performance of members of the investment team assessed?  Please explain the remuneration scheme for key people, particularly the bonus structure and the manager's share of the performance fee. Please provide detail on equity ownership of senior key staff. 
Performance of the investment committees and the portfolio manager is assessed with reference to the underlying indices.
Stock investment performance is assessed based on the performance of stocks selected relative to the stocks in the universe. Consideration is taken of sector and thematic issues which are hard to forecast or beyond the control of the analyst – for example oil & gas stocks are assessed on stock selection and identification of high quality stocks within the oil and gas sector, not on movements of the oil price.
As we are in start-up phase, key staff are being rewarded with a mix of equity and salary. 
All senior staff are equity holders.
1.20       Outline your Board compensation policies.
In the start-up phase, the board of Nucleus is rewarded through shareholding incentive schemes
1.21       Outline your approach to succession planning in regards to the Board and the investment team. Indicate the back-up person for key business and investment management positions.
Damien Klassen is backed up by a combination of David Llewellyn-Smith, and Radek Zeleny. The quant basis of the portfolio also lends itself to a smooth continuity of business should a disruption occur with respect to Damien. 
Shelley George's back up is a mix of Damien Klassen, and Aileen Chong.
Section 2.20 contains the backup information for key investment management positions.
1.22       Please supply, as an attachment, your Parent's and your firm's most recent Annual Report.
See attached.