Features
High growth portfolio for investors who are comfortable with higher levels of volatility and have a longer investment timeframe.
Actively Managed, meaning the portfolio is regularly monitored to seek out opportunities in world markets.
By using Managed Accounts, every investor has their own individual portfolio, managed by Nucleus Wealth. This means that all dividends, distributions and franking credits are captured within your portfolio.
Blend of assets that are tactically managed within the minimum and maximum weighting range of the portfolio ie. max 98% share exposure. Target allocations are shown in the following pie chart
Personalise with ethical and investment overlays, allowing you to exclude or include themes from over 100 different options
Minimum Investment is $10,000.
Benchmark is Australian Inflation (CPI) + 4.5%.
Performance
Past performance is not an indication of future performance. The above returns are per annum, as of August 31st 2023 and after investment fees (of 0.64%) but before administration fees (variable, available on our client portal and FAQs). Inception returns are per annum from 31 July 2017. You can view our full performance reports here.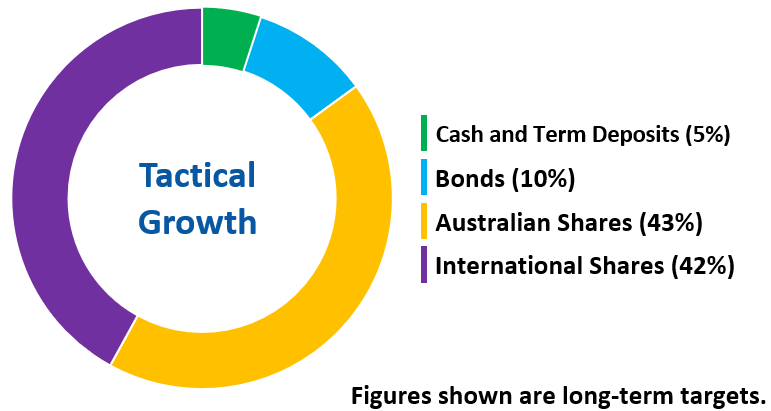 Fees
Our investment management fee is 0.64% of your account balance per annum
There are additional platform and administration fees which vary with investment size and asset type
A full break down of all fees is provided during our onboarding process, and before you make a decision.