Data update dates: World Health Organisation: 25 Feb | Hubei: 25 Feb | China: 25 Feb
COVID-19 (Coronavirus) is the number 1 issue facing investors at the moment. Given issues with data from China, we have put together these charts (updating throughout the day) to highlight the data from outside of China. Often the final data point will only include countries which have reported that day and so will change throughout the day. 
NOTE: China has re-classified statistics at least three times. There are also numerous revisions to prior numbers. We have made some adjustments to the charts below to normalise these statistics where possible, but treat China and Hubei data with scepticism. We now use both suspected and confirmed cases in Chinese ratios. 
COVID-19 cases caught outside of China
Whilst at first most cases of COVID-19 outside China were people who had flown from China to another country, we now seeing transmission of the virus outside of China taking off: 
Given that a single cruise ship made up the bulk of cases outside China in early February, it is still useful to look at cases with and without that ship.
The average incubation period of COVID-19 probably less than a week (but could be as much as 24 days), and then an additional 3-4 days before diagnosis. So, you would expect measures like quarantines and travel restrictions to take around 10 days before showing up in statistics. 
Time to doubling 
This is an examination of how long it takes for cases or deaths to double.
Winter is here
If we limit cases to only those caught in a particular country, exclude China, and then split countries into:
Winter countries: Northern Hemisphere Countries currently in winter (including Vietnam as the domestic transmission cases are in the north)
Summer/Equatorial countries: Southern Hemisphere countries currently in summer or Countries near the equator where temperatures are relatively high all year
Note: Countries near China are more likely to have contact with Chinese citizens and these countries are in winter which probably distorts this data.
New and total COVID-19 case numbers in Hubei, the rest of China
Our analysis (and the analysis of many others) suggests reporting of COVID-19 cases in Hubei province were under-reported. 
Then, on the 7th of February, China changed its definition of how it is reporting new cases to exclude patients who test positive for the virus but have no symptoms will no longer be regarded as confirmed. This means up to 80% of cases might no longer be reported. On the 13th of February Hubei reclassified how it classifies cases. On 20th February Hubei reclassified again. All changes affect the quality of the data. Confirmed + suspected cases in China are our key measure.
We are tracking data from Hubei and the rest of China separately. We are sceptical of the China data, but there is some information in the series.
On 7 Feb China made some adjustments to how they report data. Below we have made an estimate of what the case count might look like if China did not make this adjustment: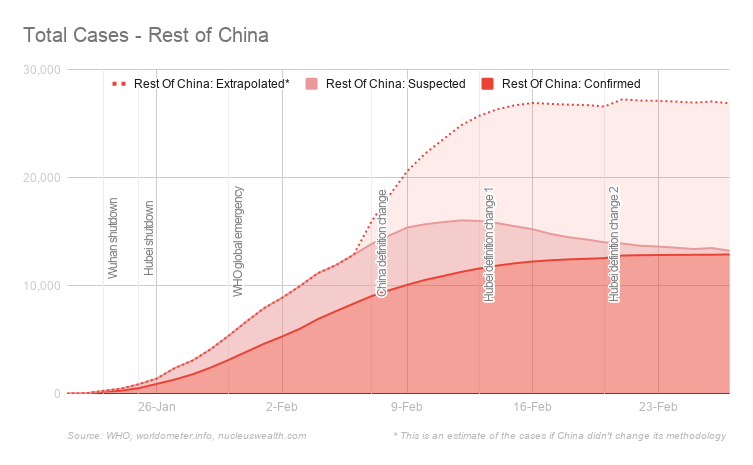 New and total Coronavirus death toll in Hubei, the rest of China, and the rest of the world
COVID-19
Mortality Rate using lag periods
The mortality rate is where we can see distinct differences in data. Dividing the number of deaths by the number of cases during the early stages of an outbreak is very misleading. People who were diagnosed today with the disease are still alive, but they still might die from the disease in the coming days.
A better way is to compare the current deaths to the number of cases from "x" days ago. We still don't know how many days we should be looking back. The stats so far suggest that the median days from the first symptom to death is 14. But with a broad range from 6 to 41. And, we don't know how long on average after the first symptom a person would take to become a case.
The below charts show the death rate if the right period to look back is 4, 8 or 12 days. Using data without Hubei, a mortality rate of somewhere between 0.5% and 3% is likely.
In recent days, data from Iran has skewed the results. There is likely a significantly larger outbreak in Iran than what is being reported. We have started showing our mortality rates for the rest of the world excluding Iran.
For more on what this means, see our article on understanding COVID-19 statistics
More Analysis
See our latest investment view and here for our latest podcast. Keep in mind that the economic impact is not particularly related to the number of deaths, more important is the disruption to business which already looks to be significant.
Data sources
This is a list of some of the main data sources we use:
https://www.worldometers.info/coronavirus/  Probably the best one
https://ncov.dxy.cn/ncovh5/view/pneumonia  Faster than worldometers for Chinese data, but slower on rest of the world data
http://www.nhc.gov.cn/yjb/pqt/new_list.shtml Official source for Chinese Data. Explains data adjustments.  
http://wjw.hubei.gov.cn/fbjd/tzgg/ Official source for Hubei Data. Usually comes out a few hours before the China data.  Doesn't always explain adjustments.
https://www.who.int/emergencies/diseases/novel-coronavirus-2019/situation-reports The slowest to update, but the most authoritative in our view. More consistent with definitions than other sources.
https://gisanddata.maps.arcgis.com/apps/opsdashboard/index.html#/bda7594740fd40299423467b48e9ecf6 The prettiest pictures, but one of the slower sites to update. I don't find the charts that useful.
https://www.youtube.com/user/MEDCRAMvideos has a daily youtube wrap-up
https://www.youtube.com/user/ChrisMartensondotcom has a daily youtube wrap-up