Investment Fees
Whilst engaging professionals to look after any part of your life is going to cost money, it should not mean the difference between a great and a less than ideal retirement. At Nucleus, we strive to keep costs low by cutting out the many middlemen that reside in most of the current investment options available today.
If you choose to invest with Nucleus there are two fees that are charged:
A management fee paid to Nucleus for making the investment decisions of 0.64%.
A platform fee paid to a 3rd party platform provider (Praemium) not related to Nucleus. This money provides you with custodial services, tax reporting, online access and trading. The fee varies depending upon the amount invested (our PDS has full details), indicatively an investor with $200,000 would pay around 0.33% pa. and it is tiered to zero fees charged over $1m. Please see below for more detail on the tiering.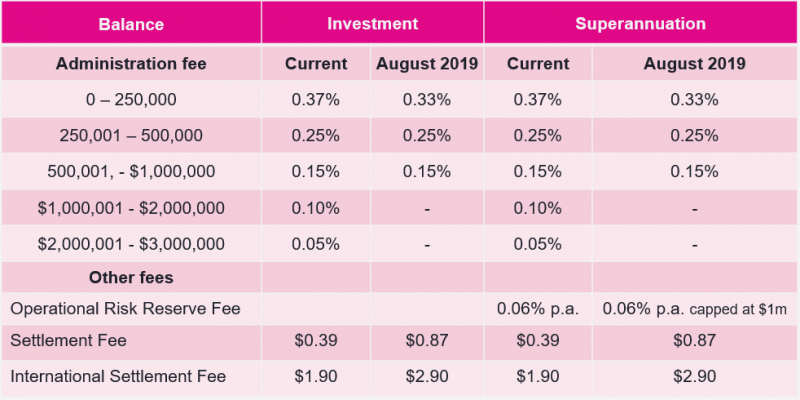 Our platform partner, Praemium, also allows the grouping of different accounts for administration fee purposes. This means that you can combine all account types (individual, joint, SMSF, Trust and Personal Super) on the platform and take advantage of the administration fee tiering. This allows substantial savings over the life of the investments. 

Brokerage Costs. We have secured very low-cost brokerage. 

Costs are important.
Our mission is to provide a technology-based investment solution that delivers portfolio tailoring, transparency and world-class investment research to our clients whilst sharing the cost efficiencies that come with not needing a branch on every corner.
As an investor with Nucleus, you only pay the costs associated with your account, not for the managed pool as found in other alternatives, and take advantage of the minimised worldwide brokerage and administration costs that come with using a platform that is not owned by a large institution.
When you apply, we provide a full breakdown of the costs for your investment.