There have been changes proposed by the Labor party to imputation credits. We have put together a quick series looking at a number of aspects for investors:
In Part 1 (link) we looked at the winners and losers from the proposed changes
In Part 2 we look at some peripheral issues (a) at how management cheat by using buy backs (link) to inflate the value of their own options (b) (this post) the tax effectiveness of international shares for Australian investors.
In Part 3 (next week) how companies allocate capital and how franking distorts the process for Australian companies
In Part 4 (next week) tax decisions that Australian investors should consider – can you get in front of any changes?
Tax effectiveness of international shares
International shares have a poor reputation for tax effectiveness that doesn't match the reality – and if Labor's imputation reforms go through then the difference between an Australian investment and an international investment will be negligible: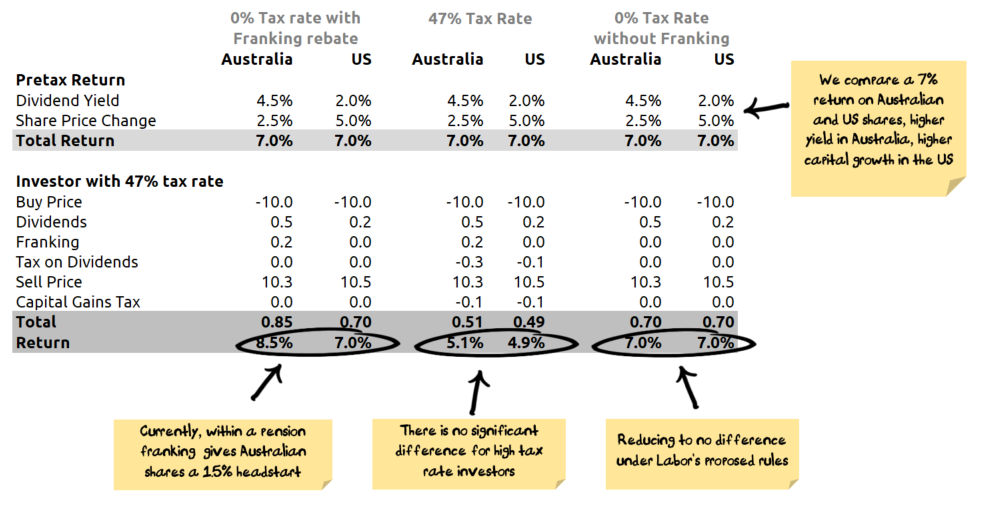 Source: Nucleus Wealth
Let me start by saying that investing for tax reasons is fraught with danger.
You should always start with investing for returns – tax is (at best) a secondary consideration. If you expected even a 2% better return from international shares over Australian shares then there is no tax scenario that would make you prefer Australian shares.
If your assets are in a superannuation fund in pension mode
Under current tax laws,  then Australian shares will return about 1.5% more than international shares. The difference arises as you are not paying tax and you will get cash back from franking credits. 
Under Labor's proposed changes there will be no difference between investing in Australian shares and investing in international shares if you don't qualify for a pension.
If your assets are outside of superannuation
Under current tax laws, if you are on the maximum marginal tax rate, there is no significant difference between the tax position – Australian shares give you a very slightly higher return, but international shares give you better timing as let you defer your tax payment until you sell the shares.
At a 39% marginal tax rate (i.e. earning $80k-$180k) there is about a 0.4% difference. Again Australian shares give you a higher return, but international shares give you better timing as let you defer your tax payment until you sell the shares.  I would contend that anyone who thinks they can forecast Australian vs International returns to within 1% is having themselves on.
Finally, at a 0% marginal tax rate the effect is the same as for a superannuation fund in pension mode: a 1.5% benefit under current tax laws falling to no difference under Labor's proposed changes.      
Conclusions
Under current taxation, anyone in pension mode or on a 0% tax rate should have a slight tax preference for Australia shares over International shares worth about 1.5% per year. But to put that into context,  in the last month alone Australian shares have underpeformed international shares by almost 2%. 
Under Labor's proposed tax changes, anyone on 0% or the top tax rate should have no tax preference for international vs Australian shares. 
Someone in a middle tax bracket can get a gain of around 0.5% per annum by investing in Australian shares, but you would have to know that you will continue to be in that tax bracket when you sell the shares as otherwise the calculation changes.  So, at best, a very minor preference for Australian shares.
Simply put, don't invest for tax – invest for returns.
Damien Klassen is Head of Investments at Nucleus Wealth.
The information on this blog contains general information and does not take into account your personal objectives, financial situation or needs. Past performance is not an indication of future performance. Damien Klassen is an authorised representative of Nucleus Wealth Management, a Corporate Authorised Representative of Integrity Private Wealth Pty Ltd, AFSL 436298.